Remember a few weeks ago when everybody in Greater Boston was having a collective brain aneurysm about the
Rolling Stone
cover featuring Boston Marathon bomber Dzhokhar Tsarnaev? There was an online cause to
boycott the issue on Facebook that drew 170,000 likes
,
refusal by some stores to carry it
, and general insistence by most of your friends and colleagues that they would never again buy or read a magazine they probably already didn't buy or read. All because Rolling Stone published an issue where they labeled a very normal looking American kid a "monster" and had the audacity to ask "how could this happen?"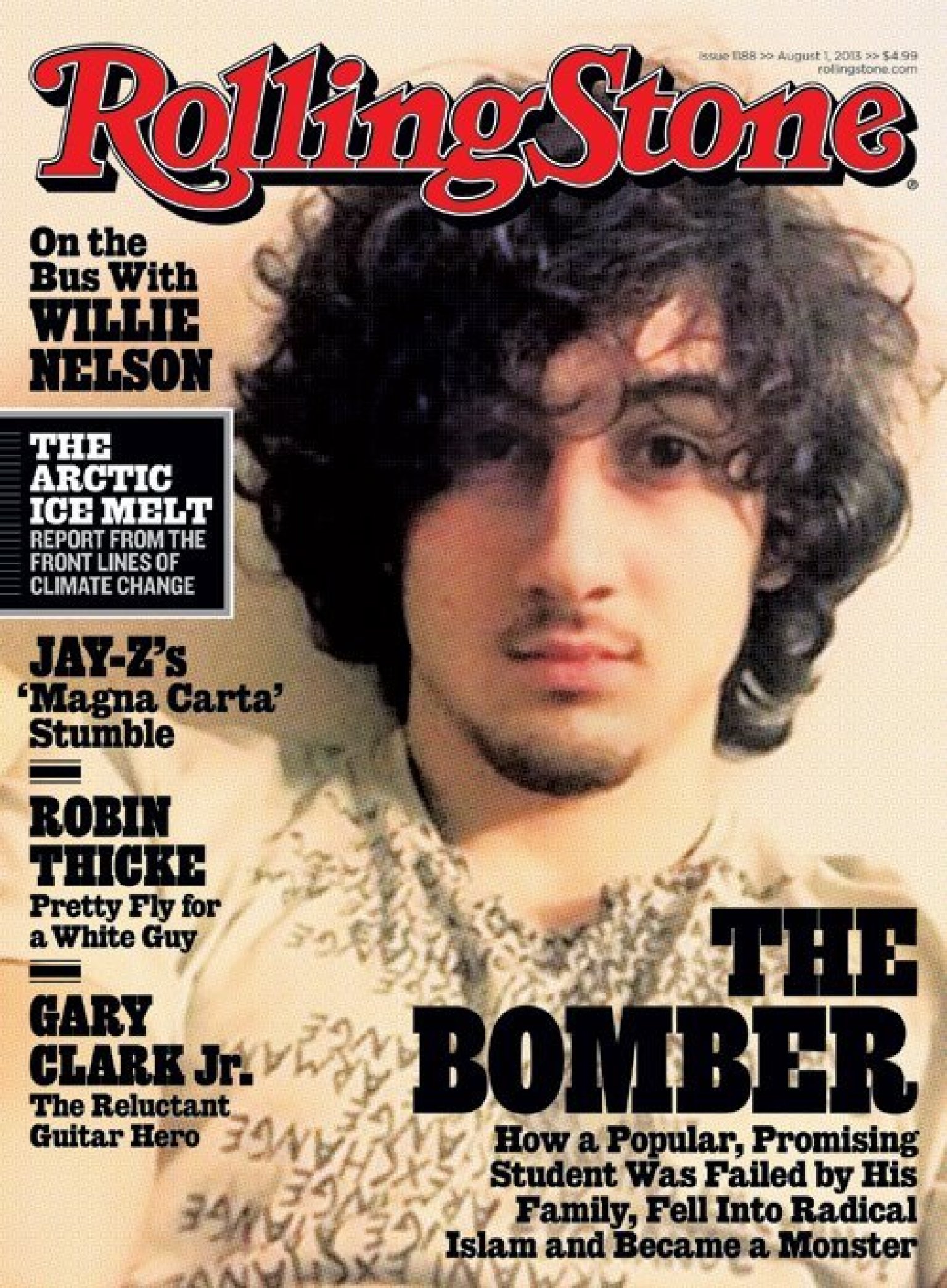 How dare you use a picture of a person
looking like a person!
The outrage about this cover was centered not around the terrorist on the cover (we've seen that before), but that the terrorist didn't "look" like a terrorist, but rather like a rock star (or, if you'd prefer it, a semi-attractive normal teenager, which is how most rock stars start out). When bin Laden was on covers of magazines, he was wearing Middle Eastern attire we associate with Islam. Tsarnaev, on the other hand, has messy hair, facial stubble, and a kind of cool t-shirt on. He looks like your kids, and because of that, some people seem to think seeing him will turn kids (not your kids! They're perfect!) into terrorists in the future. Apparently most parents are not confident that their parenting skills can effectively deter their children from blowing up their neighbors when faced with a cover on a magazine that was last relevant when Led Zeppelin was still putting out records.
So folks took to the streets (or the internet) and worked the whole region up into a lather. End result?
Rolling Stone's retail circulation doubled!
This reemphasizes the old adage "any press is good press." Talking about this magazine non-stop for days as people did made people who hadn't thought about
Rolling Stone
in years or ever think about Rolling Stone. Add to this problem that the article itself was actually pretty good, and all the outrage has made Rolling Stone a kind of viable media entity again in things-not-written-by-Matt-Taibbi.
It's cool if they look Muslim.
So let this be a lesson, reactionary citizenry: no matter what you're freaking out about -
Rolling Stone
, gay marriage, Doc Rivers to LA - outrage about it only encourages people to find out more about what you're talking about. Not only is this result inevitable, it's good for a thinking, informed population. All the outrage about this cover made people think about why it's an outrage. Are we being honest with ourselves when we all flip out about a photo of a person involved in a major news story because he looks like he actually looks? Wouldn't it have been more inappropriate for
Rolling Stone
to have used some doctored picture of Tsarnaev to make him look evil? And how would it have been better to put the victims on the cover? The story was not about them. It was about how a normal American teenager could turn into a monster. That's a conversation we should be having, and thanks to
Rolling Stone
, in partnership with Mayor Menino and the people of Boston, now people are having it in a more informed way.